documents:cosproject:citizens_pocket_guide_v2
Article V Convention of States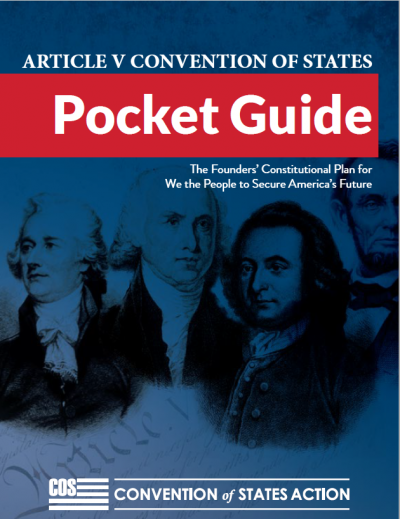 CITIZEN'S POCKET GUIDE v2
TABLE OF CONTENTS
1. Who Decides?
2. Article V of the U.S.Constitution
3. The Problem
3.1 - The Spending and Debt Crisis
3.2 - The Regulatory Crisis
3.3 - Congressional Attacks on State Sovereignty
3.4 - Federal Takeover of the Decision-Making Process
4. Support for a Convention of States
5. OTHER NOTABLE SUPPORTERS
6. Answers to Common Questions
6.1 - Why Do We Need to Call a Convention of States?
6.2 - What is a Convention of States?
6.3 - How Do the State Legislatures Call a Convention of States?
6.4 - Can Congress Block a Convention of States?
6.5 - How Do States Choose Their Delegates?
6.6 - What Happens at a Convention of States?
6.7 - How are Proposed Amendments Ratified?
6.8 - How Do We Know How a Convention of States Will Work?
6.9 - Is a Convention of States Safe?
7. Overcoming Objections
Objection 1: What happens if a Convention of States becomes a "runaway convention" and takes away our hard-won liberties?
Objection 2: Didn't the original Constitutional Convention run away?
Objection 3: I like our Constitution the way it is—short, simple, and fairly easy to understand. Why should we change it?
Objection 4: The Constitution isn't the problem. The problem is federal officials. How will amending the Constitution help?
Objection 5: Article V says Congress "calls" the Convention. Doesn't this mean Congress will control the Convention?
Objection 6: At a time of extreme gerrymandering and in an environment of unlimited political spending, wouldn't a Convention of States open up the Constitution and our system of government to being rewritten by special interest groups and the wealthy?
Objection 7: Why is the opposition to a Convention of States issuing dire warnings about its potential for national disaster?
8. MODEL APPLICATION
9. Amendments
10. SIMULATION
11. About
12. Get Involved
12.1. Sign & Send
12.2. Volunteer
12.3. Be a Leader
12.4. Spread the Word
13.1 ONLINE PETITION
13.2 PAPER PETITION
documents/cosproject/citizens_pocket_guide_v2.txt · Last modified: 2021/06/30 09:02 by Oliver Wolcott
---